GRDP (2022)
VND 150,195 billion
Per capita GRDP
VND 107 million
Population (2022)
1,336,000 people
Urban
525,600 people (39%)
Rural
810,400 people (61%)
Population density
376 people/km²
Industrial real estate is becoming the center of attention for domestic and foreign investors. In the context of increasing demand for warehouses and factories, Thai Nguyen is considered an attractive destination for investors thanks to its outstanding development in transportation infrastructure, abundant labor resources, and dynamic government that provides maximum support for businesses. It can be said that Thai Nguyen has a combination of favorable natural and geographical conditions, as well as human harmony to break through and develop explosively in the near future, becoming the high-tech industrial capital of the North.
Strategic location - the satellite development of Hanoi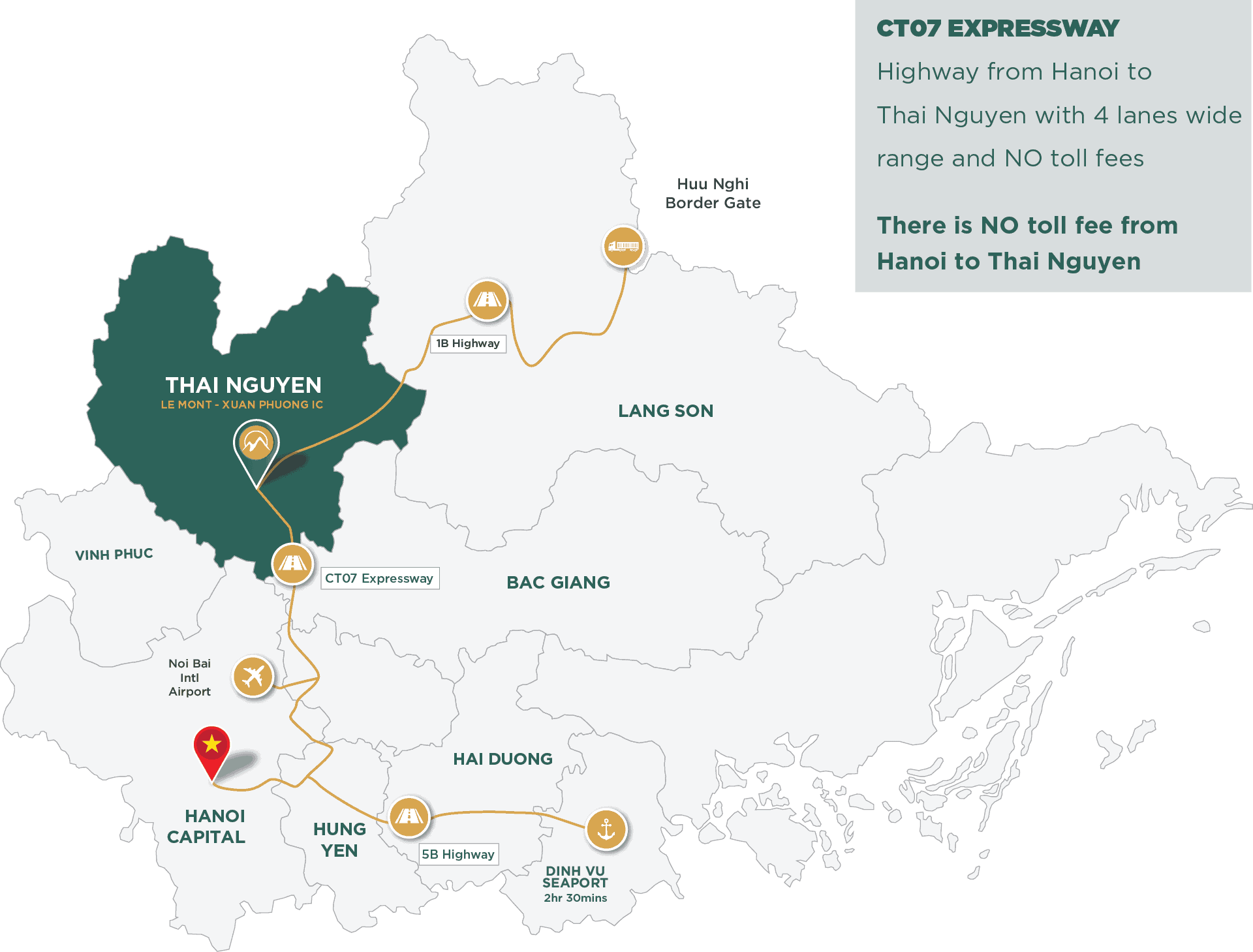 Geographically, Thai Nguyen holds a strategic position, considered as the "heart" of the Northeast region, being one of the main political, economic, and social centers of the North. Thai Nguyen is 50 km away from Noi Bai International Airport, 75 km away from the center of Hanoi, 150 km away from the border with China, and 176 km away from Hai Phong port. Thai Nguyen is a gateway for economic and social exchange between the mountainous midland region and the Northern delta region, through the system of roads, railways, and rivers, of which Thai Nguyen city is the hub.
Thai Nguyen province is within the regional planning of Hanoi capital; it borders Bac Kan province to the North, and Vinh Phuc, Tuyen Quang to the West, Lang Son, Bac Giang to the East, and the capital city Hanoi to the South. Thai Nguyen has a natural area of 3,562 km², a population of over 1.337 million people including 8 ethnic groups living together; it has 9 administrative units, including 3 cities, and 6 districts with 178 communes, wards, and townships.
In addition, Thai Nguyen has a mild climate, a culture bearing the typical identity of the Vietnamese ethnic group, friendly and hard-working people, and a guaranteed security situation on the province's territory, which will help investors feel secure in investing in long-term production and business. This is a significant advantage in promoting the province's socio-economic development.
The synchronized and modern transportation and infrastructure system
Thai Nguyen has a convenient transportation system connecting with other provinces and international border gates. The distance from the airport in Noi Bai to Thai Nguyen by air is 50 km, with a travel time of about 45 minutes. The travel time from the southern development area, Phu Binh district, Pho Yen town, Song Cong city to the airport is about 30 minutes.
Thai Nguyen has a road system with National Highway 3 connecting Hanoi and Thai Nguyen with a length of 62 km. National Highway 37 connects Bac Giang – Thai Nguyen – Tuyen Quang. National Highway 1B connects Thai Nguyen – Lang Son. The Belt Road 5 connecting with provinces in the area of Thai Nguyen – Bac Giang – Tuyen Quang – Vinh Phuc is very convenient.
The railway system connects Thai Nguyen – Hanoi – Hai Phong – Lao Cai – Lang Son and the North-South railway. The river system has Da Phuc port connecting with provinces in the Red River Delta and Hai Phong port.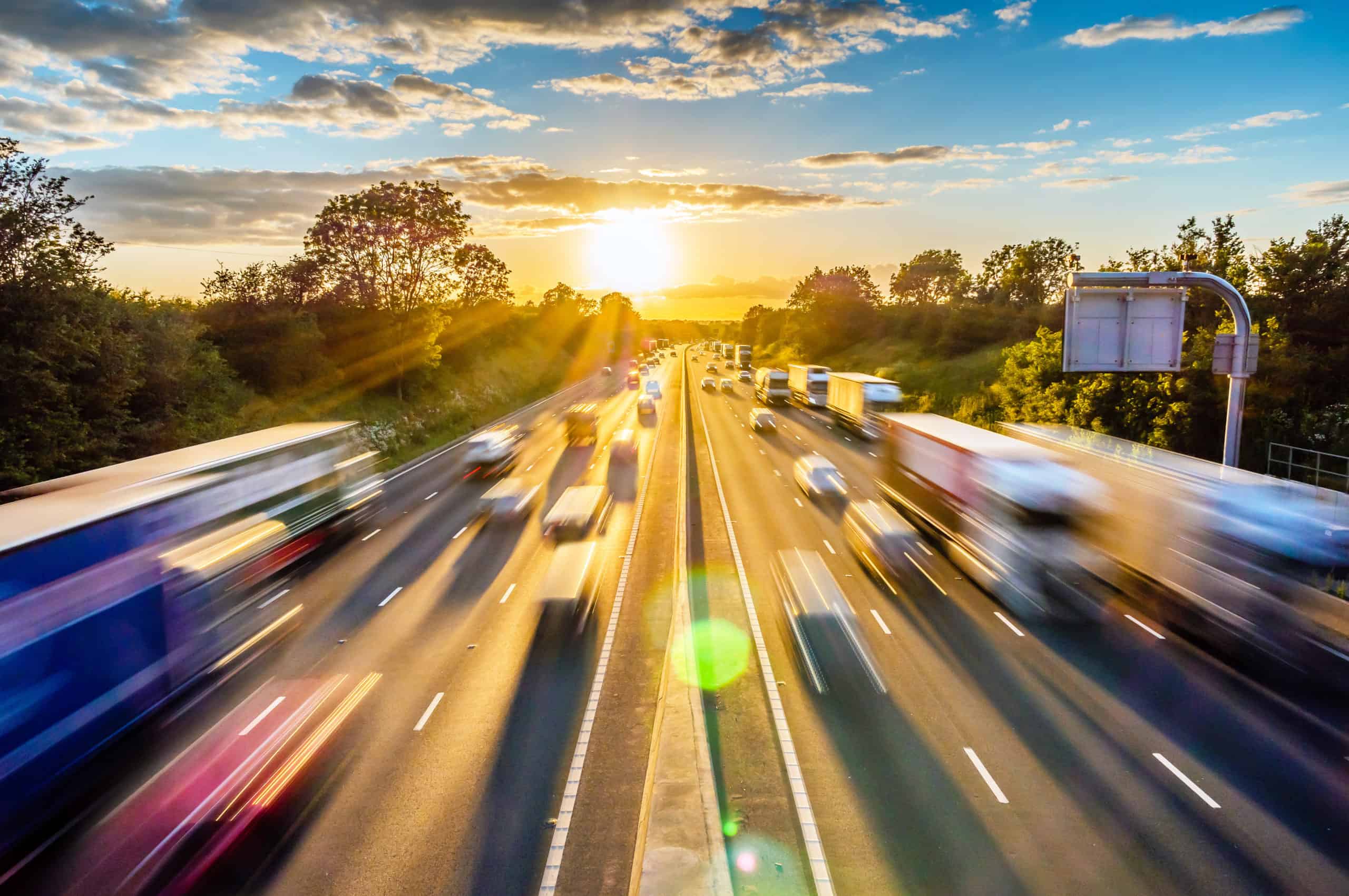 Regarding infrastructure in Thai Nguyen, there are 2 electricity systems (the national grid system and the electricity purchased from China system) ensuring stable power capacity and quality. There are 2 units supplying clean water (Thai Nguyen Clean Water Joint Stock Company and Yen Binh Water Plant) ensuring a supply of clean water for daily life and production.
Currently, on the province's territory, there are full-service providers such as Viettel, Vinaphone, Mobifone, etc. to meet all communication and large-capacity internet connectivity needs, ensuring smooth communication for investors. The province has also signed a memorandum of understanding with the military telecommunications group (Viettel) with the goal of building an electronic government, towards a digital government and smart city for Thai Nguyen province in the period of 2021-2025.
Economy accelerating towards rapid development
In 2022, Thai Nguyen is the 25th most populous administrative unit in Vietnam, ranking 14th in total Gross Regional Domestic Product (GRDP) with a GRDP of VND150,195 billion (equivalent to USD 6.3 billion), ranking second in the Northern Midlands and Mountainous region (after Bac Giang province) and sixth in the capital region after Hanoi, Bac Ninh, Hai Duong, Bac Giang, and Vinh Phuc. The average GRDP per capita is VND 107 million (equivalent to USD 4.86), ranking first in the Northern Midlands and Mountainous region and among the top 12 provinces and cities nationwide with the highest GRDP per capita.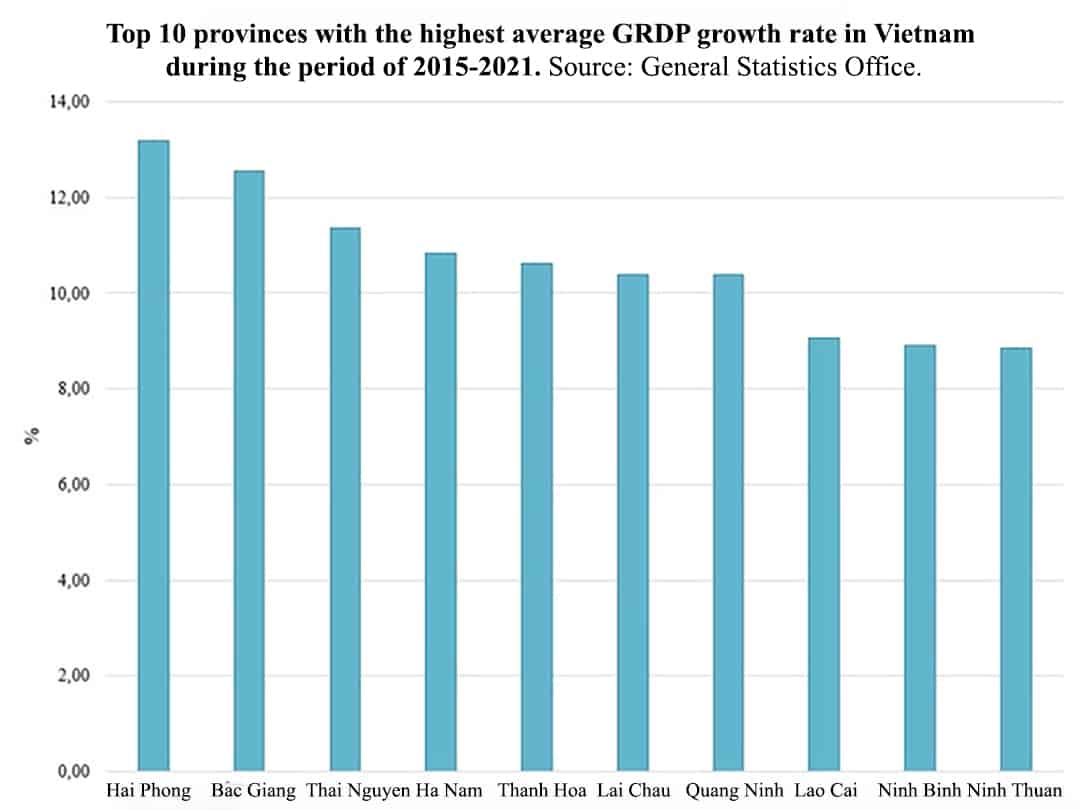 Thai Nguyen is also the only province in the Northern Midlands and Mountainous region to be among the top 10 provinces and cities with the highest Gross National Income (GNI) per capita in the country in 2020 (with USD 12,960).
In 2022, the GRDP growth rate of Thai Nguyen province reached 8.59%, higher than the national average.
In 2019, the proportion of urban population in the province ranked 18th nationwide and first among the provinces in the Northern Midlands and Mountainous region, second in the capital region (after Hanoi). According to the results of the 2019 Population and Housing Census by the General Statistics Office, Thai Nguyen is the third locality in the country in terms of the proportion of households owning private cars, with a rate of 10.3%, only behind Hanoi and Da Nang, and also the province with the third highest proportion of households using mobile phones, after Ho Chi Minh City and Ca Mau.
Training and Healthcare Center
30
VOCATIONAL TRAINING CENTERS
Thai Nguyen is a major training center in Vietnam, with 10 universities, 12 colleges, 8 vocational schools, and 30 vocational training centers located within the province. Each year, over 100,000 students are trained in various fields, including industry, electronics, foreign languages, metallurgy, and other professions, meeting the demand for the labor force of investors.
Thai Nguyen is also a healthcare hub with over 800 medical facilities, including 24 hospitals (20 state-managed and 4 privately-owned), 14 regional multi-specialty clinics, 178 commune-level health stations, 30 healthcare centers for agencies, enterprises, and schools, and 547 other medical and healthcare facilities with a total of 7,341 hospital beds to meet the healthcare needs of people within and outside the province.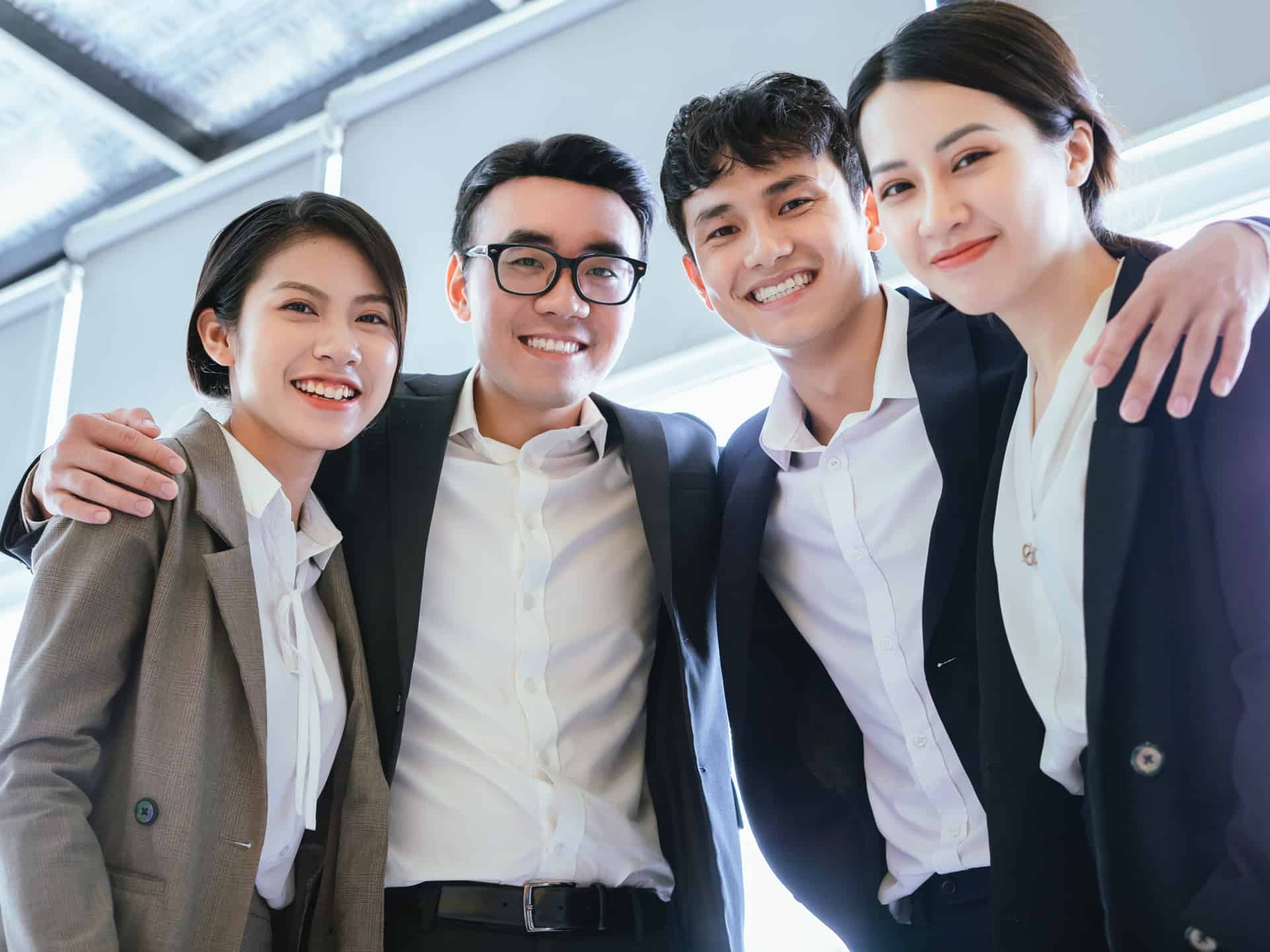 The Dynamic Government - Supporting and Accompanying Enterprises
In recent years, the province of Thai Nguyen has consistently ranked high in the country in terms of the Provincial Competitiveness Index (PCI), the Public Administration Reform Index (PAR INDEX), and the Provincial Governance and Public Administration Performance Index (PAPI). This demonstrates the dynamic nature of the government, aiming for effective administrative reform, improving the investment environment, and enhancing the province's competitiveness. The Party committees and government at all levels have always been concerned with these issues.
In 2022, Thai Nguyen ranked second in the country in terms of the Satisfaction Index for Administrative Services (SIPAS), which is an increase of nine places from 2021. Thai Nguyen also ranked eighth out of 63 provinces and cities nationwide in the Digital Transformation Index in 2022, with even development across all three pillars: digital government, digital economy, and digital society.
The province of Thai Nguyen always actively accompanies and supports enterprises, implementing transparent, fair, and equal procedures, and promoting administrative reform, especially in streamlining administrative procedures, reducing the time needed to complete procedures as much as possible. At the same time, the province proactively organizes dialogues between enterprises and government at all levels, and between enterprises and banks to address difficulties related to procedures and taxes. This has helped to reduce the time needed to complete administrative procedures by at least 40% for investors of all economic sectors.
The modern industrial city - the new FDI capital of the North
Recently, Thai Nguyen province has become one of the attractive bright spots that draw domestic and international investors. Up to now, there are 846 active domestic investment projects with registered capital of over VND 146,972 billion and 175 active FDI projects with a total registered investment capital of over USD 10.78 billion.
For the past 7 years, Thai Nguyen has consistently been among the top 4 provinces in Vietnam in terms of attracting foreign direct investment (FDI). In 2022, the number of FDI projects in Thai Nguyen ranked first in the North Central Mountains region and 11th out of 63 provinces nationwide. The average scale of each FDI project invested in Thai Nguyen is around $53.04 million.
As of the first quarter of 2023, Thai Nguyen province has 22 industrial clusters with infrastructure investment totaling VND 6,650 billion, attracting 65 investment projects with a total registered investment capital of VND 9,433 billion.
In recent years, Thai Nguyen has welcomed many large corporations such as Samsung, Dongwha, Hansol Electronics, and Mani…
Additionally, many large Japanese, Korean, American, and Australian corporations and investors are interested in investing in the province, helping Thai Nguyen make strong strides in attracting investment and gradually becoming the new FDI capital of the North.
In particular, the number of Chinese, Hong Kong, and Taiwanese companies entering Thai Nguyen has increased strongly in the past 3 years, mainly focusing on solar energy, electronics, and supporting industries. Notably, large corporations such as DBG, Trina Solar, Sunny Opotech, and many others are included.
Moreover, after operating and developing in Thai Nguyen for some time, these large corporations continue to trust and continuously increase their investment capital in the province. Recently, Samsung invested an additional USD 920 million to expand its electronic components factory, and Sunny Opotech increased its total capital to USD 2.5 billion to build a factory producing camera lenses and optical devices. This shows that Thai Nguyen's investment environment is truly safe and attractive to international companies.
The development orientation of Thai Nguyen in the period of 2021-2030 and vision to 2050 is to develop and expand 11 industrial zones and 1 concentrated information technology zone with a total area of 4,245 hectares, 41 industrial clusters with a total area of 2,067 hectares, 13 golf courses, and infrastructure to become a leading center for high-tech industrial and technological economics in the country.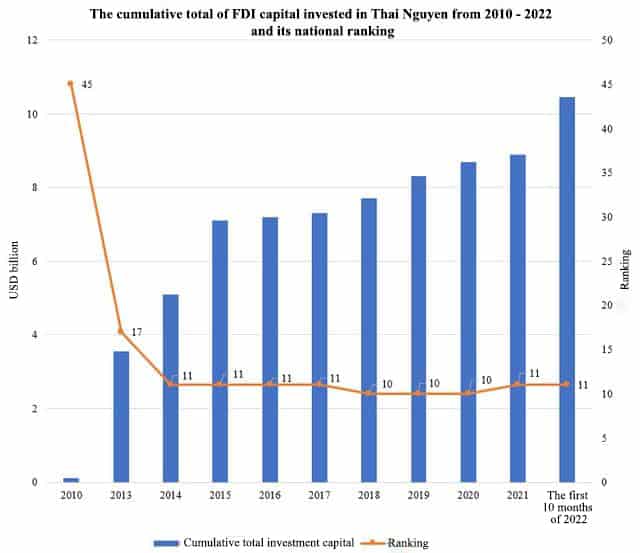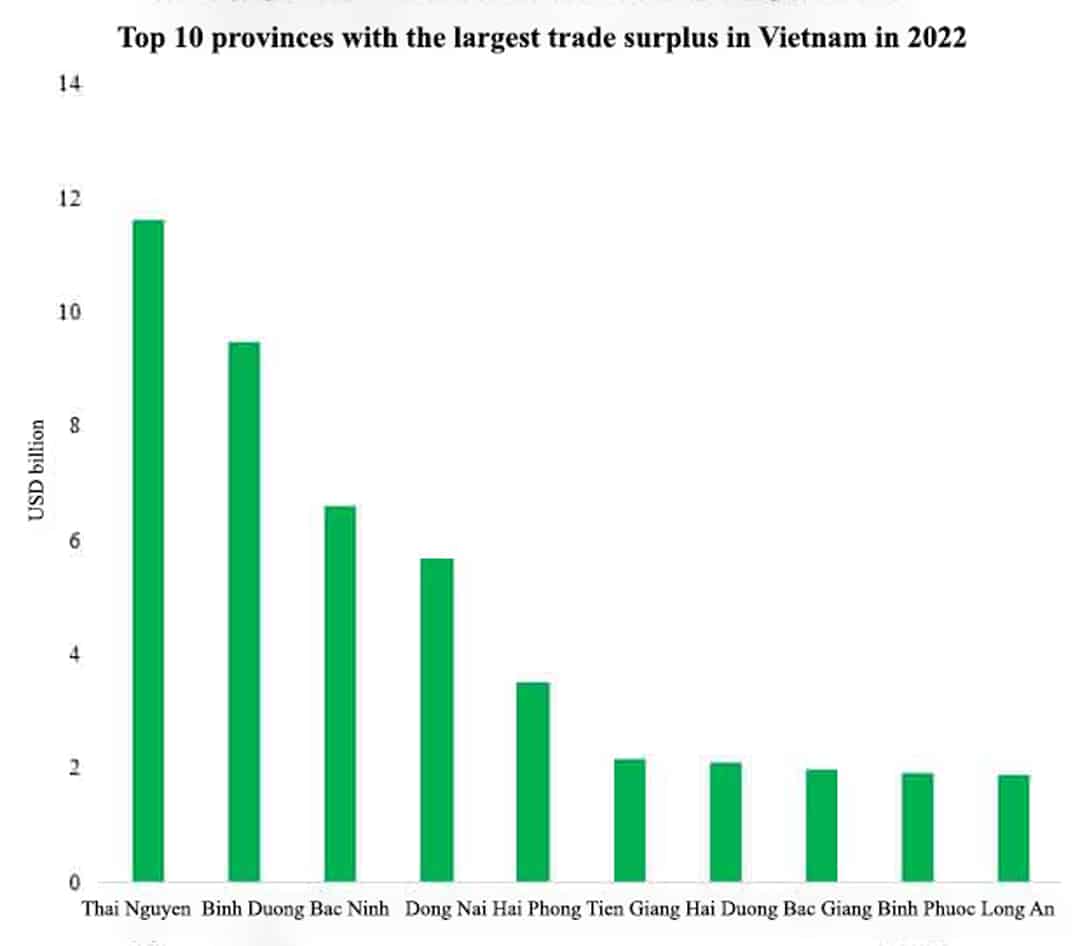 Outstanding potential for development and growth
According to market research reports in Vietnam, Thai Nguyen is currently in the best time to invest in industrial real estate. The province holds significant potential for outstanding development to make a breakthrough in the next 10 years.
Firstly, Thai Nguyen is located in the industrial satellite zone of Hanoi, giving businesses an advantage in transportation and logistics. The province's transportation system is becoming more synchronized and modern with continuous road networks connecting directly and quickly to neighboring economic and industrial centers.

Secondly, compared to neighboring industrial provinces with increasingly limited land resources, Thai Nguyen still has more excess land for development at reasonable prices with high quality. In 2022, industrial land rental prices in Thai Nguyen range from $80-110/m², and pre-built factory rental prices range from $3.5-$4.8/m². In addition, the supply chain for technical industries in the province is increasingly complete. The industries that are currently developing strongly in Thai Nguyen include solar energy, electronics, electronic components, mechanics, and supporting industries.

Thirdly, Thai Nguyen has an abundant workforce, with about 760,000 people of working age, of which those under 35 years old make up about 58%. The minimum wage level is low, such as in Phu Binh district located in region 3 with a wage of VND 3,640,000/month (equivalent to $155/month).
Along with that, Thai Nguyen is very concerned about land clearance, creating land funds to attract investors, and completing infrastructure for industrial clusters to welcome domestic and foreign investors.
Thai Nguyen province commits to providing the best preferential policies and mechanisms of the Vietnamese government to attract investment, as well as specific support mechanisms for businesses with large investments, high labor usage, reasonable land use, environmental protection, and stable, sustainable growth.
DO YOU HAVE ANY QUESTIONS?
FEEL FREE TO CONTACT US!
Copyright 2023 © LE MONT INVESTMENT JSC – INDUSTRIAL DEVELOPMENT