Developing industrial parks and clusters under the ESG (Environmental, Social, and Governance) model is one of the solutions to achieve net-zero emissions by 2050, but it requires a feasible roadmap.
Industrial Parks Going Green
"While we haven't seen clear evidence of rent price disparities between industrial projects in Vietnam with green certifications and traditional industrial parks, tenants are starting to show a preference for sustainable and renewable energy-focused industrial parks," said Ms. Pham Ngoc Thien Thanh, Head of Research and Consulting at CBRE Vietnam, commenting on the trend of industrial real estate development following green standards.
In fact, there is a growing number of industrial projects registered and certified with LEED (Leadership in Energy and Environmental Design) in Vietnam. According to Ms. Thanh, as of the end of the third quarter of 2023, a series of industrial real estate projects have registered for LEED certification, such as Core5 (Hai Phong), Logos (Bac Ninh), RBW in Phu Tan Industrial Park (Binh Duong), and RBW in Xuyen A Industrial Park (Long An), etc.
Certainly, the green industrial park trend mentioned by CBRE has been widely discussed in recent years and is gradually becoming a clear reality. In early July 2023, Frasers Property Vietnam announced that the Eco Logistics Centre project in Binh Duong had received LEED certification, awarded by the United States Green Building Council (USGBC).
The Eco Logistics Centre, covering over 7.5 hectares and owned by Chuonng Duong Beverage Joint Stock Company, was developed and is operated by Frasers Property Vietnam. To achieve the aforementioned results, according to Mr. Edwin Tan, Deputy CEO of Frasers Property Vietnam, the design and construction phases were aimed at achieving up to 25% energy savings compared to similar projects.
Mr. Hoo Swee Loon, Deputy CEO of Le Mont Group, also emphasized that the development of green and smart industrial zones, coupled with the establishment of closed-loop production chains, is a crucial direction to realize Vietnam's sustainable development goals. Green industrial parks and industrial clusters not only focus on optimizing resource utilization and reducing emissions but also promote the growth of clean and efficient industries.
The Path Forward Remains Challenging
According to experts, the development of green and eco-friendly industrial zones is a crucial component for developers to move towards ESG practices. Currently, ESG requirements necessitate that factories be located in industrial zones that adhere to ESG principles, encompassing environmental, social, and corporate governance aspects in a harmonious manner.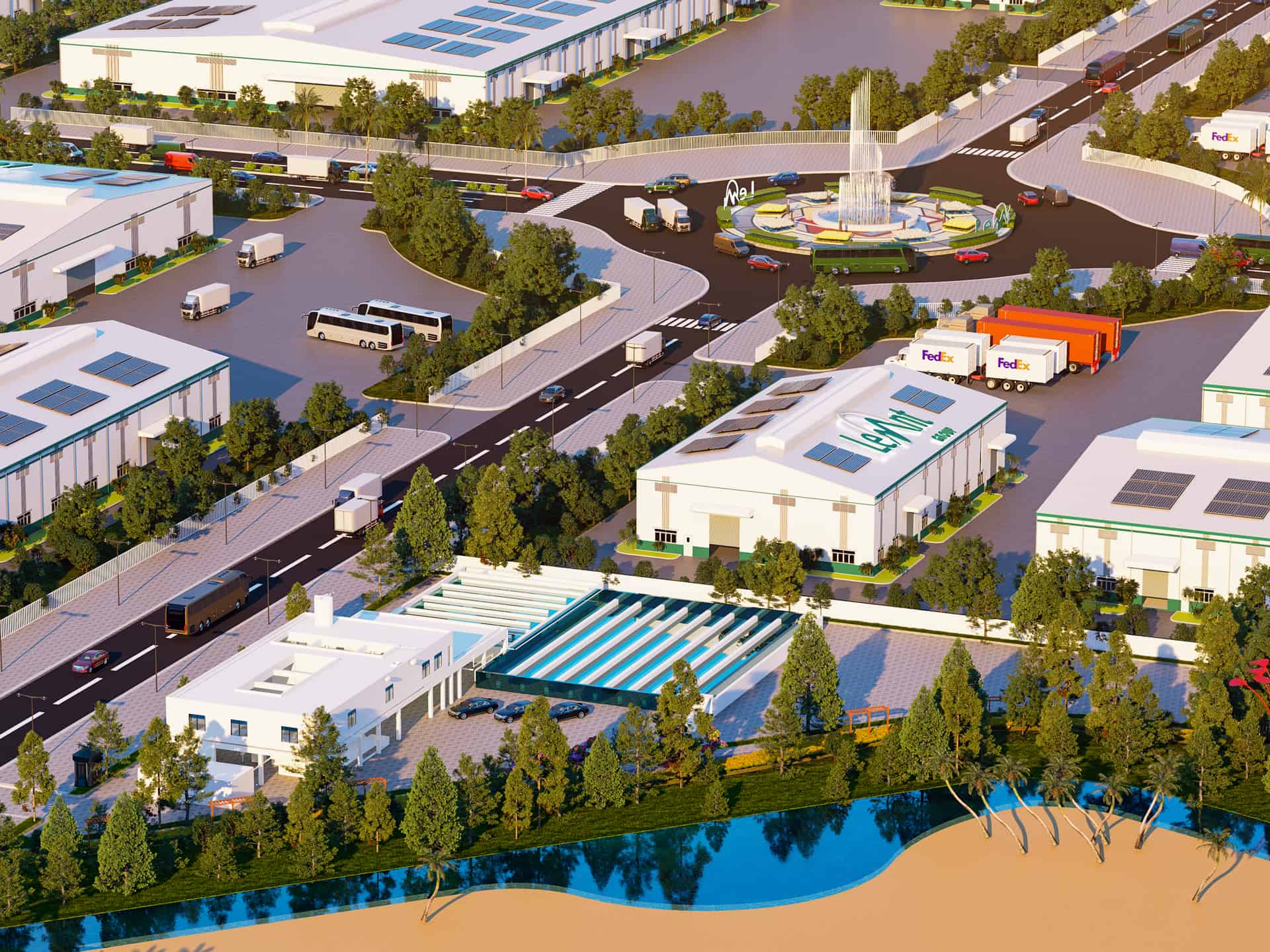 Mr. Nguyen Van Nhan, CEO of Amata Corporation, believes that the trend of attracting investments in Vietnam, both nationally and locally, is becoming more stringent, focusing on projects that prioritize environmental protection, limit the excessive use of human resources and resources, and embrace advanced technologies.
On the other hand, investors from major brands are also targeting investment destinations that meet ESG standards.
"Vietnam currently only has incentives for using renewable energy in office buildings, but factories – where the largest energy demands exist – are still lacking in this regard," expressed Mr. Nhan.
According to Mr. Hoo Swee Loon, the development of industrial real estate projects following ESG standards is still a relatively new trend in Vietnam. Consequently, its implementation is expected to face several challenges, of which he identifies at least four main ones.
Firstly, investing according to ESG standards often requires a substantial initial capital outlay to implement greener technologies and equipment, as well as to establish ESG management and monitoring systems.
Secondly, to comply with ESG criteria, businesses need to change their operational and managerial practices. This can potentially lead to conflicts with traditional practices and demands comprehensive shifts in business mindset.
Thirdly, measuring and monitoring progress according to ESG standards can be complex, requiring a focus on survey indices, statistical data, and monitoring systems.
Lastly, workforce training and capacity building pose a significant challenge in ESG implementation. To meet ESG criteria, businesses need a trained workforce with knowledge in environmental, social, and governance matters. This can present challenges in recruiting and retaining qualified talent.
"Although the implementation of industrial projects following ESG standards may encounter certain obstacles, with the support of the government, local authorities, organizations, and enterprises, it is possible to choose a suitable roadmap for gradual implementation. This is because consumers increasingly demand products from sustainable development-oriented businesses," Mr. Hoo Swee Loon emphasized.
Source: Baodautu