Thai Nguyen province has approximately 111 active FDI projects from South Korea with a total investment capital of over USD 8.6 billion. The Korean investment wave has created a vibrant FDI landscape, making Thai Nguyen an essential link in the global supply chain through Korean enterprises.
Comprehensive Cooperation
On the afternoon of June 26th, the People's Committee of Pho Yen City, Thai Nguyen province, signed a Memorandum of Understanding on cooperation with the government of Chilgok-Gun district, Gyeongsangbuk-do province, South Korea.
Accordingly, both parties will make efforts to promote exchanges and cooperation within their respective localities based on the principles of equality and mutual support. The two sides will engage in exchanges and cooperation in various fields such as investment, trade, culture, tourism, science, education, agriculture, labor, and other areas of mutual interest. Annually, both parties will exchange delegations and jointly organize events, conferences, seminars, and other activities to strengthen the friendly and cooperative relationship between the two localities.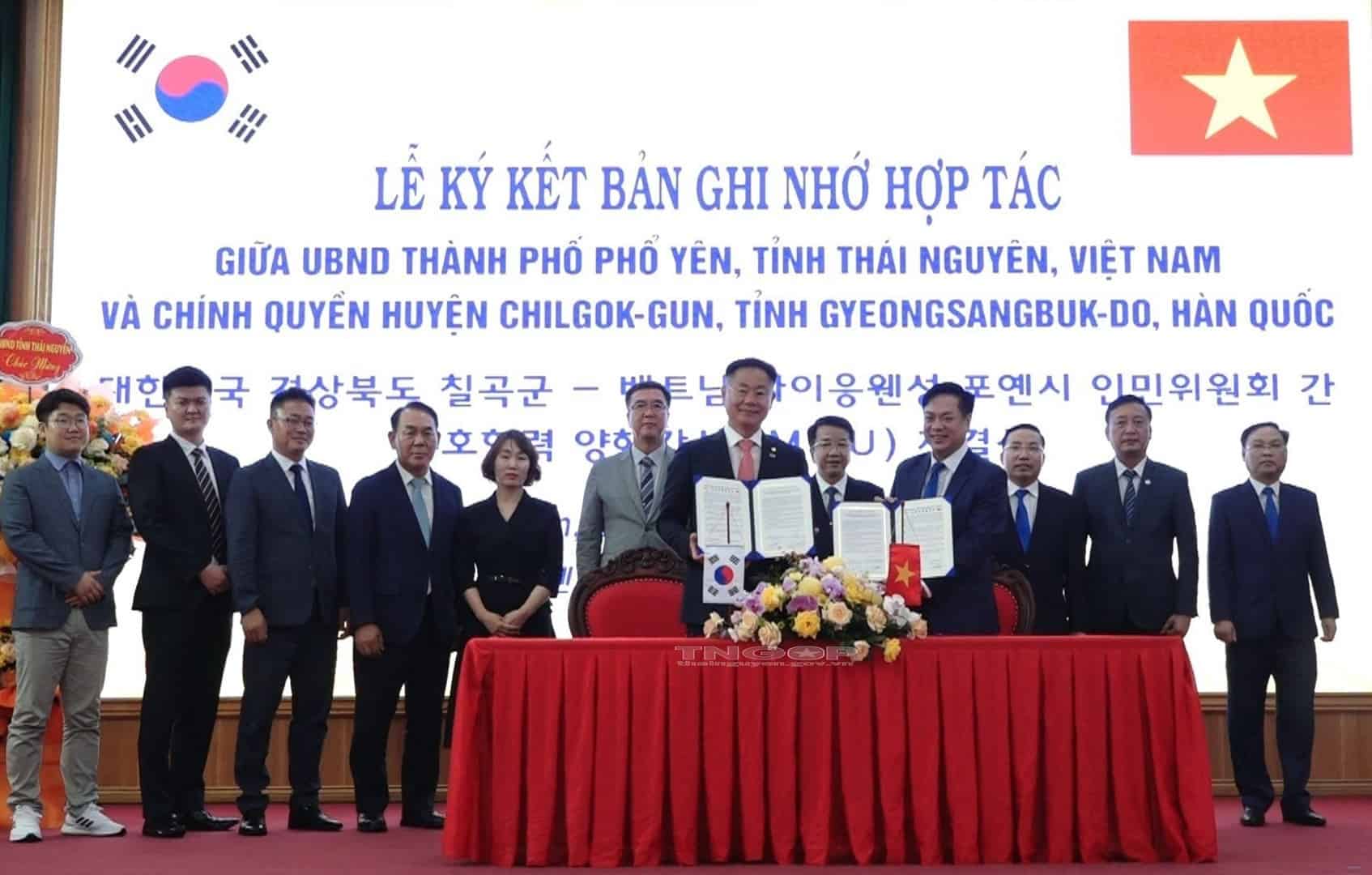 Building upon the strong and fruitful relationship between Vietnam and South Korea over the past 30 years, local-level cooperation between Thai Nguyen province and Korean counterparts has been actively promoted and implemented. Thai Nguyen province (Vietnam) and Gyeongsangbuk-do province (South Korea) signed their first agreement on friendly cooperation in 2005. In 2019, both parties signed a memorandum of understanding on expanded cooperation, based on principles of respect, equality, and mutual benefits.
The friendly cooperation relationship has achieved significant progress, laying a foundation for broad and deep cooperation between the localities of Thai Nguyen province and Gyeongsangbuk-do province, South Korea. Choengdo district (Gyeongsangbuk-do province, South Korea) established cooperation with the People's Committee of Dinh Hoa district in 2014, and the People's Committee of Song Cong City signed with the government of Mungyeong City in 2018. Currently, three localities in Thai Nguyen are actively expanding their cooperative relations with Gyeongsangbuk-do, including Phu Luong district and Gunwi district, Thai Nguyen City and Yeongyang district, and Pho Yen City and Chilgok district.
Top Destination for South Korea in Vietnam
"The success of businesses is the success of the province" – this perspective has helped Thai Nguyen become a leading investment destination for South Korea in Vietnam. So far, Korean investment projects have been operating efficiently, providing regular employment for nearly 100,000 workers (accounting for 94.5% of the total workforce in FDI enterprises in Thai Nguyen). They have contributed to the development of industries with high technology and added value.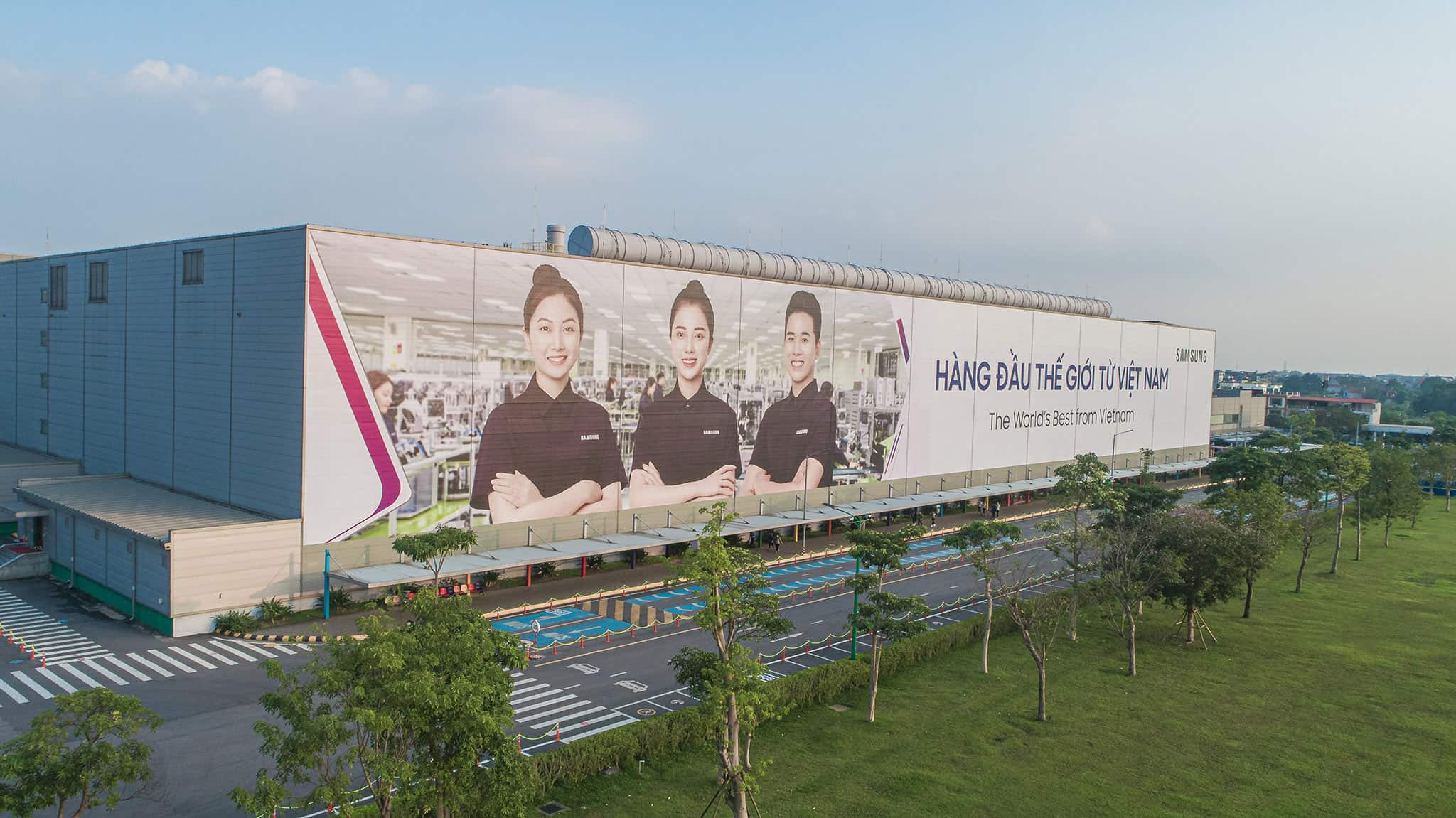 The presence and development of Samsung in Thai Nguyen have initiated a wave of attracting investors within the global supply chain, creating a significant influx of FDI into the province. To date, Thai Nguyen has attracted 111 projects from South Korea with a total registered investment capital of 8,698.9 million USD, spanning across various sectors including processing and manufacturing industries, real estate, and hospitality services.
In particular, projects in the processing and manufacturing industries account for 82.4% of the total number of projects and 99% of the registered investment capital. Notable investments have come from major conglomerates such as Dongwha Group, Jukwang, KET Vina, RFTech, Samju, Dongsung, among others, with several other businesses exploring investment opportunities.
Currently, Thai Nguyen province has plans to collaborate with economic groups and domestic and foreign investment companies to actively promote foreign investment through investment promotion agencies such as the Korea International Cooperation Agency (KOICA), the Korea Trade-Investment Promotion Agency (KOTRA), the Korea Business Association in Thai Nguyen, other international representatives, and the Korea-Vietnam Economic and Cultural Association, etc.
"Rolling out the red carpet" to welcome investors
Thai Nguyen is implementing various policies and incentives to continue attracting major investors to Vietnam. Currently, Thai Nguyen has allocated nearly 5,000 hectares of land for industrial development, with total FDI capital exceeding USD 10 billion, in which Korean investors hold a significant proportion.
Thai Nguyen is focusing on prioritizing the completion of 6 industrial parks and 6 industrial clusters, surrounding the key industrial space with the nucleus being the Samsung factory, aiming to create a new phase of growth. In addition to the 12 planned industrial parks and 41 industrial clusters by 2030, Thai Nguyen also has the potential to develop tourism, including world-class golf courses within a 30-minute drive from Noi Bai Airport.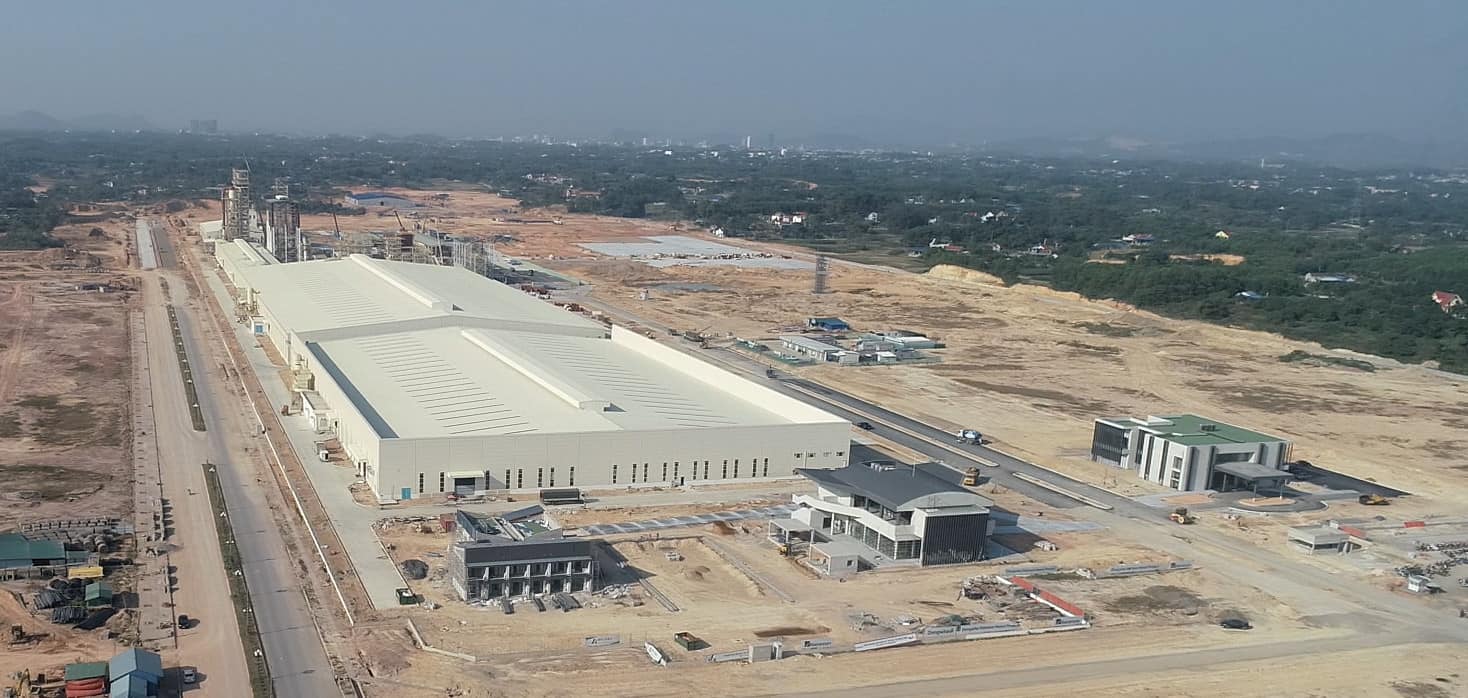 "It is a potential market for foreign investors, including South Korea. Thai Nguyen province prioritizes inviting investment in areas such as Industrial Park infrastructure, Industrial Clusters, secondary investment in high-tech industries such as electricity, electronics, and mechanical engineering, urban areas, residential areas, agriculture, culture-social fields, and some other sectors," said Mr. Trinh Viet Hung, Chairman of the People's Committee of Thai Nguyen province.
Mr. Kwon Sung Taek, Vice Chairman of the Korea-Vietnam Economic and Cultural Association (KOVECA), expressed his impression of the province's development, noting that the dynamic and enthusiastic leadership, resolute direction, and unified management are strengths in aiming to build Thai Nguyen into a growth pole in the northern region near the capital city of Hanoi.
With the goal of building Thai Nguyen into a center of industrial and high-tech economic development in northern Vietnam by 2030, the province is actively preparing essential infrastructure facilities. Currently, the province has major telecommunication networks such as Viettel, Vinaphone, Mobifone, which meet all communication and large-capacity internet connectivity needs, ensuring smooth connectivity for investors.
In the spirit of transparency, and seeking market opportunities, the Chairman of the People's Committee of Thai Nguyen province commits that when investors come to Thai Nguyen, they will enjoy the best incentives and policies offered by the Vietnamese government to attract investment, as well as specific support mechanisms from Thai Nguyen province for enterprises with large investments, significant employment, rational land use, harmonious environmental protection, and sustainable growth.
Source: Thainguyentv