Starting investment in Vietnam from the 1990s, South Korea quickly became the largest investor in the country. As of May 2023, the total investment capital poured into Vietnam by South Korean investors reached over USD 81.5 billion, with more than 9,600 active projects, according to the Ministry of Planning and Investment.
The largest-ever business delegation to Vietnam
According to Yonhap News Agency (South Korea), from June 22nd to June 24th, President Yoon Suk Yeol of South Korea will make an official state visit to Vietnam. It is known that this will be the first visit to Vietnam by President Yoon Suk Yeol.
Notably, the delegation accompanying President Yoon Suk Yeol on this diplomatic trip includes the leaders of 205 top Korean companies, including Chairman of Samsung Electronics Lee Jae-yong, Chairman of SK Group Chey Tae-won, Chairman of LG Group Koo Kwang-mo, Vice Chairman of Hanwha Group Kim Dong-kwan, Chairman of Hanjin Group Cho Won-tae, and Vice Chairman of Hyosung Group Cho Hyun-sang, among others.
Mr. Hong Sun, Chairman of the Korean Business Association in Vietnam, stated that the attractiveness of the investment and business environment in Vietnam is relatively stable, with many favorable incentives. In the future, South Korea will invest comprehensively in Vietnam, not only in certain sectors of foreign direct investment (FDI) or manufacturing plants, but also in real estate, industrial parks, and infrastructure such as road construction and airports.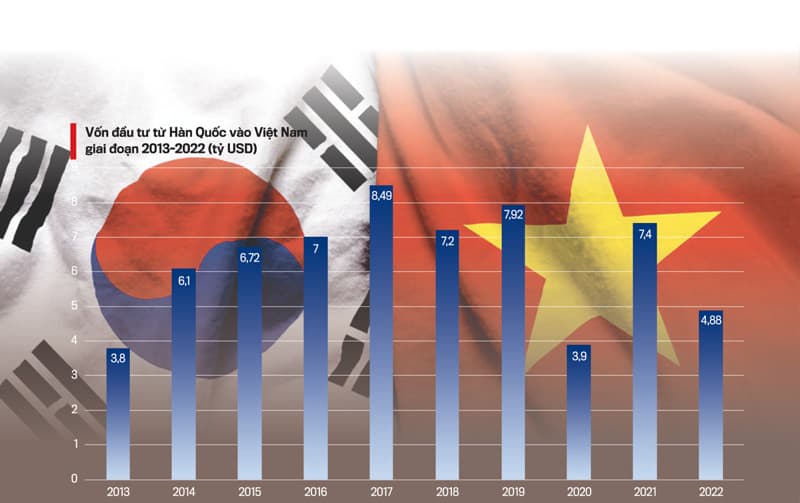 Over the past 30 years of cooperation, Vietnam has demonstrated a strong appeal to leading corporations from South Korea, as evidenced by their continuous increase in capital and expansion of investments in various provinces nationwide.
Samsung
In March 2008, Samsung received an investment certificate and commenced the construction of its first mobile phone manufacturing plant in Vietnam – Samsung Electronics Vietnam (SEV) in Bac Ninh. Initially, the project had an investment capital of USD 670 million, but it quickly saw continuous increases in investment, reaching USD 1.5 billion and then USD 2.5 billion, nearly four times the initial investment capital.
Now Samsung is the largest foreign investor in Vietnam, with six factories located in three high-tech industrial parks in Bac Ninh, Thai Nguyen, Ho Chi Minh City, and recently, the largest R&D center in Southeast Asia in Hanoi.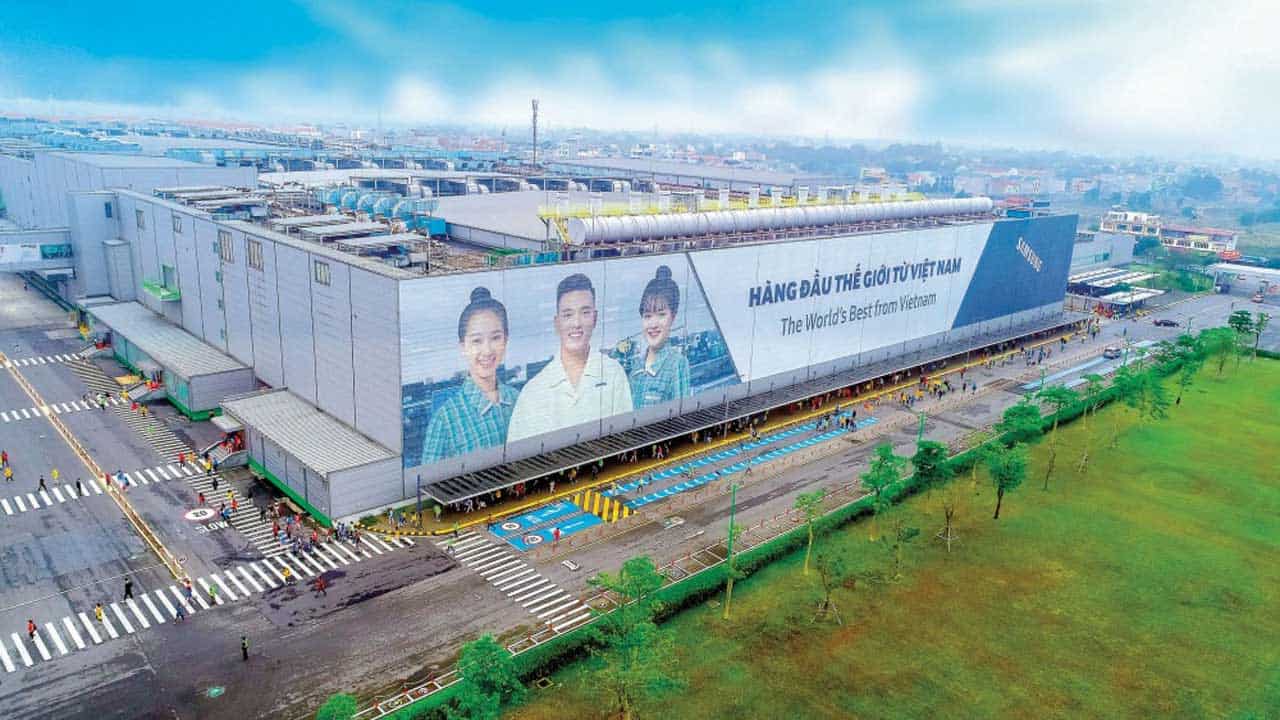 After 15 years, Samsung has become the largest investor in Vietnam, with a total investment capital of approximately USD 20 billion. During the period from 2018 to 2022, Samsung contributed over USD 306 billion to Vietnam's export turnover. In 2022 alone, despite the impact of the Covid-19 pandemic, the figure reached USD 65 billion, playing an important role in pushing Vietnam's total export turnover to exceed USD 700 billion for the first time, reaching over USD 732 billion.
LG Corporation
Starting its investment in Vietnam since 1995, LG has invested USD 5.3 billion in various fields such as camera manufacturing, electronics, home appliances, and automotive equipment. LG employs 27,000 employees, including direct workers in LG factories in Vietnam, and its subsidiary companies have around 70,000 employees. In Vietnam, Hai Phong can be considered the "capital" of LG in Vietnam.
According to the electronic portal of Hai Phong city, LG has attracted investments of USD 8.24 billion to Hai Phong (accounting for 10% nationwide and 82.4% within the city). Specifically, LG Corporation has 7 projects in Hai Phong with an investment capital of USD 7.24 billion (including LG Electronics, LG Display, LG Innotek, LG CNS, LG Chemical – 2 projects, LG International), and there are 50 satellite enterprises with a total investment capital of nearly USD 1 billion.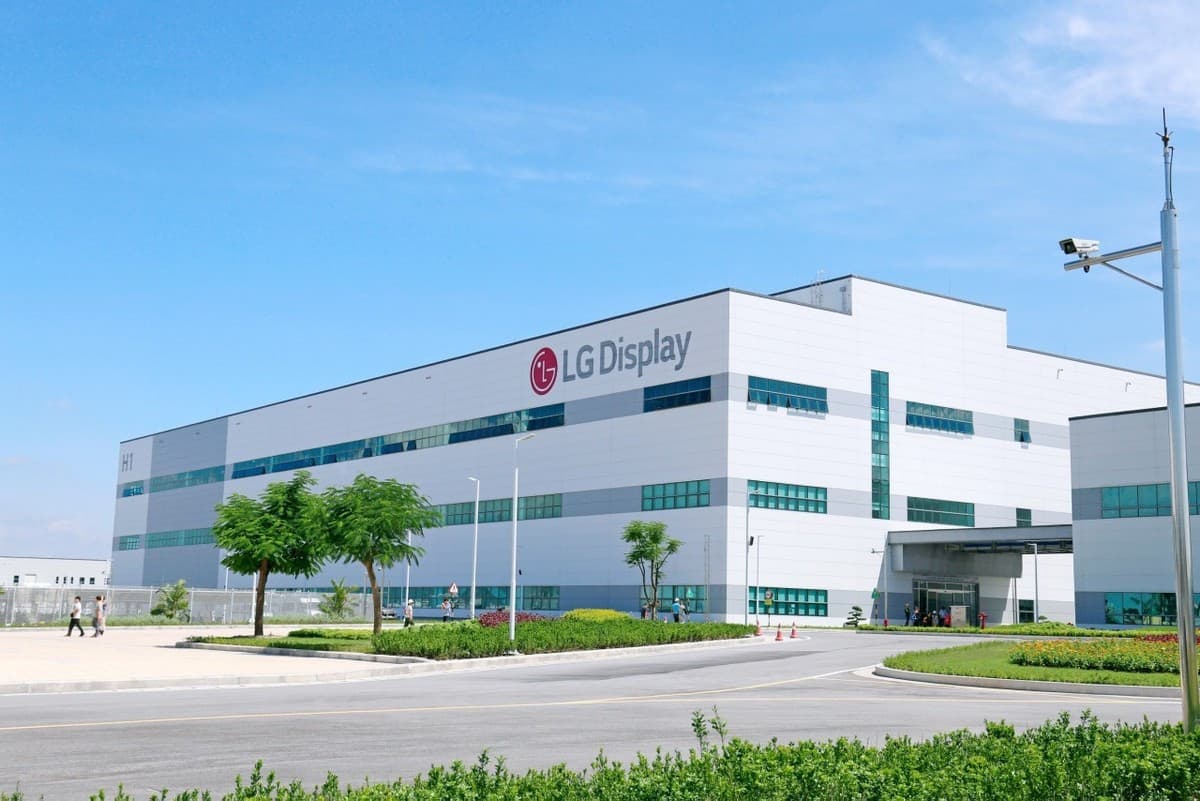 The cumulative export turnover of the LG Corporation is USD 50.6 billion. With a growth rate of 72% per year, the average annual increase is USD 1.71 billion. LG's export share consistently accounts for around 43% of the city's total export turnover. Cumulatively, LG has contributed approximately USD 530 million to the budget of Hai Phong, averaging around USD 66 million per year.
Hanwha Group
Hanwha is the 7th largest corporation in South Korea, operating in the fields of aerospace and machinery manufacturing, energy, finance, construction, services, and entertainment. In Vietnam, Hanwha has invested over USD 1 billion in important projects, including nearly USD 400 million investment in Vingroup Corporation, USD 100 million investment in a solar power plant project in Long An, USD 100 million investment in a security equipment manufacturing plant in Que Vo Industrial Park – Bac Ninh, and the first and only aircraft engine component manufacturing plant in Hoa Lac High-Tech Park, Hanoi (with an investment of USD 200 million).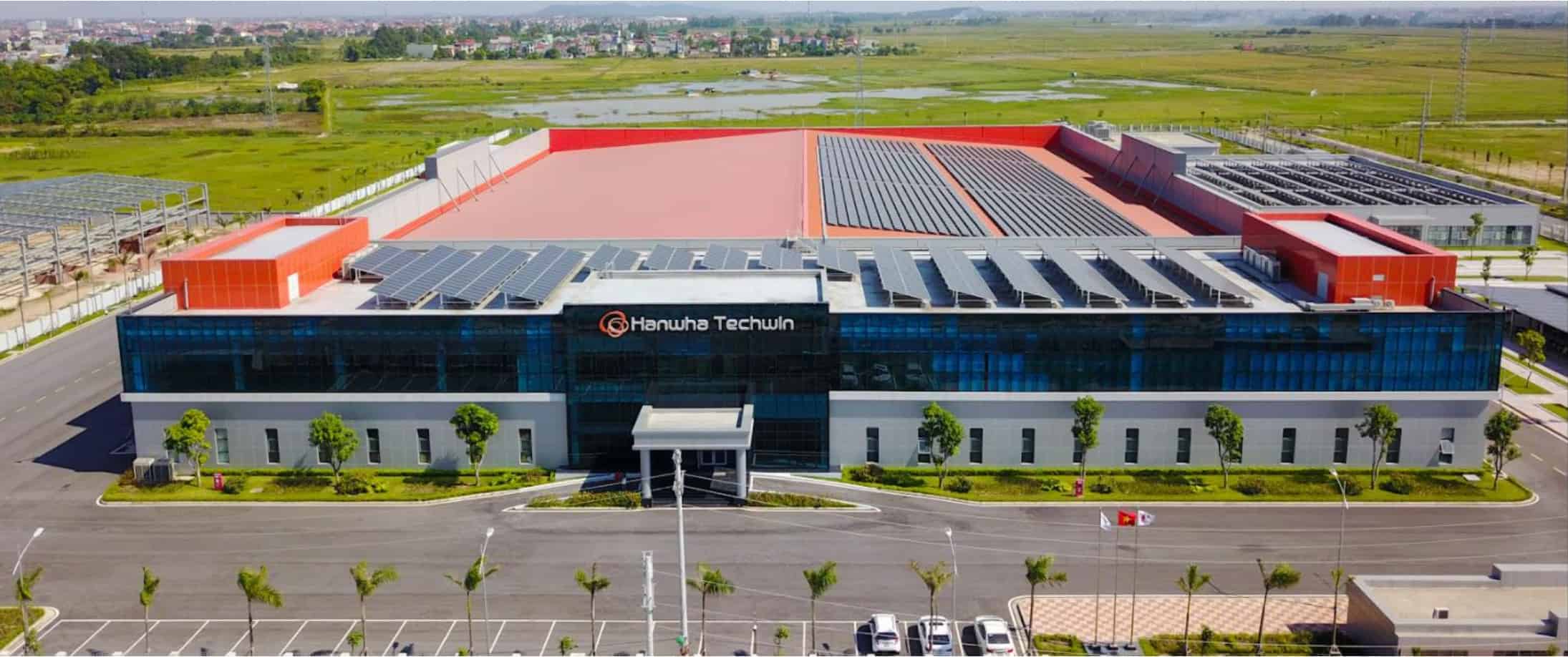 SK Group
SK is a diversified economic corporation with a market capitalization of nearly USD 200 billion, ranking second in South Korea after Samsung and among the top 100 largest corporations in the world. The group's strengths lie in the fields of Energy, Pharmaceuticals & Healthcare, Logistics, and Information & Communication Technology (ICT). In Vietnam, SK Group is known as one of the major investors in mergers and acquisitions (M&A) deals.
The group has made investments in numerous businesses across various industries, including PV Oil (through SK Energy), Masan Group, and Vingroup. Specifically, in August 2018, the group established a subsidiary called SK South East Asia Investment, with the purpose of investing in rapidly developing enterprises in Southeast Asia. Just two months later, this investment company acquired a 9.5% stake in Masan Group.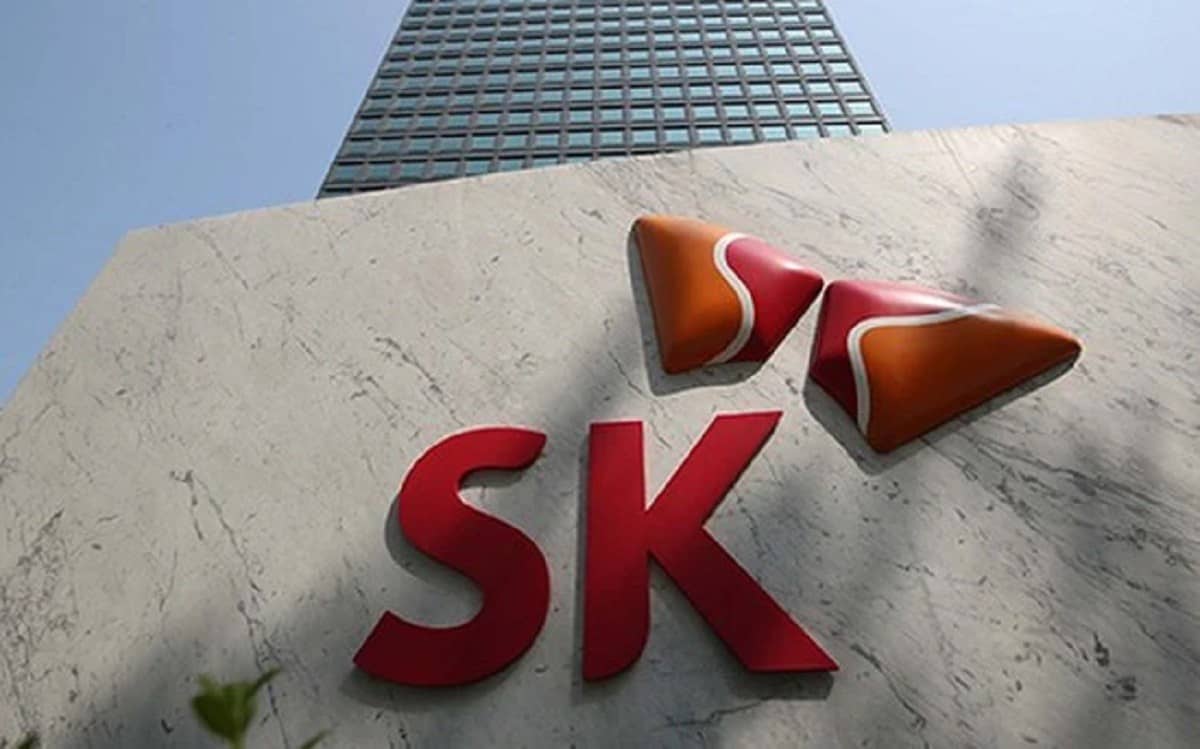 In 2019, the company continued to acquire a 6.1% stake in Vingroup. Additionally, SK also purchased a 24.9% stake in the pharmaceutical business of Imexpharm Corporation in May 2020.
Since mid-2022, SK Group has owned a 54% stake in Imexpharm, a leading pharmaceutical manufacturer. They have also emerged as the largest foreign shareholder of Maroon Bells, the owner of Pharmacity, the largest unlisted pharmacy chain in Vietnam. SK Group is believed to hold a 14.5% stake in the company with an estimated investment of around USD 90 million.
Furthermore, in mid-November 2021, SK Group, through its subsidiary SK South East Asia Investment, continued to invest in VinCommerce, one of the leading retailers in Vietnam. The company acquired a 16.3% stake in VinCommerce for KRW 460 billion (USD 410 million) as part of a strategic partnership with its parent company, Masan Group.
Source: Market Times